Description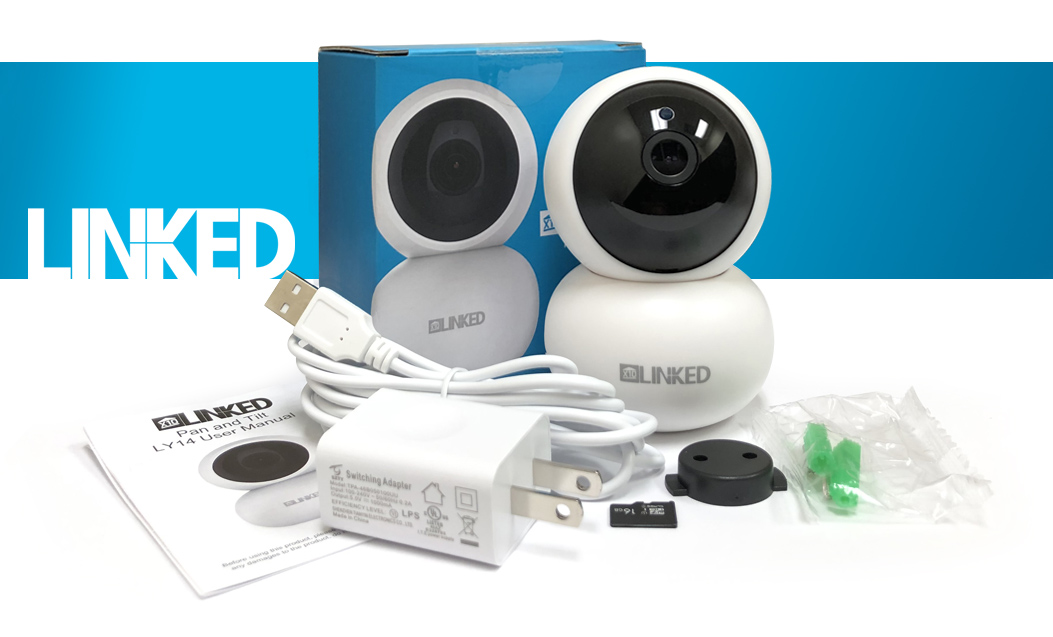 One of our most popular Pan and Tilt Cameras just got better! Introducing the LY14 X10 Linked camera!
This is a very small and compact 360 degree camera. View everything in the room! In addition, the lens has received an upgrade from 720p to 1080p full HD! Smaller and more powerful while also keeping all those great X10 Linked features like Nightvision, Two Way audio, Notifications, Local recording and more!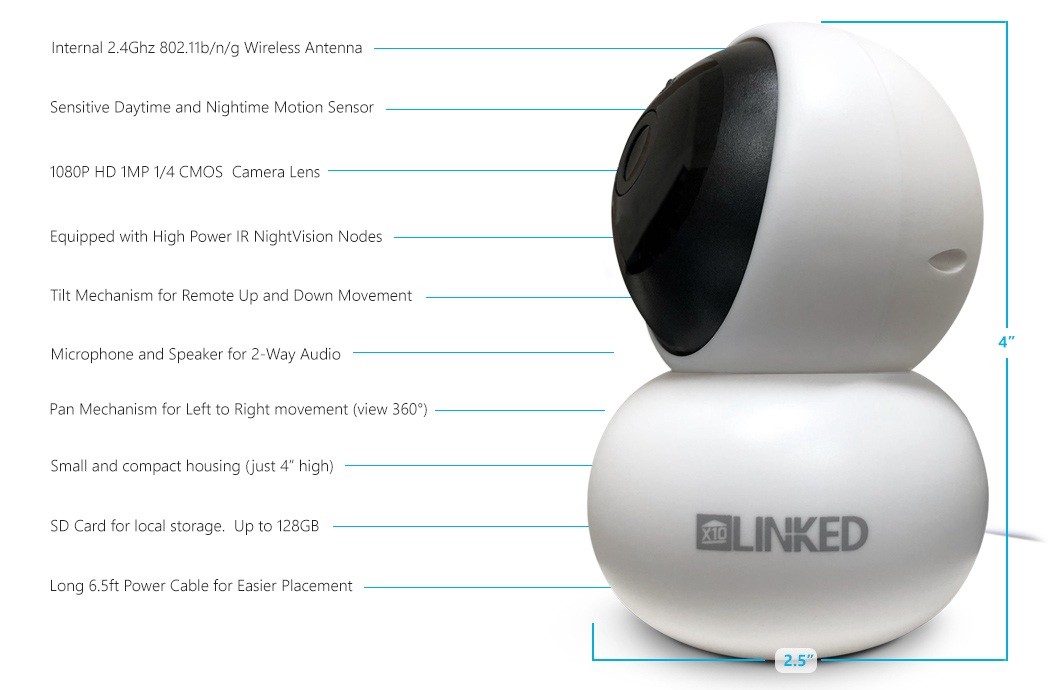 X10 Linked 1080p HD Pan and Tilt WiFi Camera
View it all with the Pan and Tilt Camera! Tilt up and down and Pan side to side for a full 360 degree view! Keep track of the things you care about while you are away! Get notifications if the camera senses motion, check in when you need to, even communicate directly through the camera! Night or Day, X10 Linked always has you covered.

Ultra Simple Setup
Step 1: Plug in your camera at your desired location.
Step 2: Download the "X10 Linked" App from the Apple App Store or Google Play store
Step 3: Follow the voice guidance for installation!

X10 Linked LY14's Main Features
1. 1080P HD Video, Night vision 10 meters with Motion Sensing
With an ultra crisp 1920*1080 FULL high definition lens, it also houses IR Nigh Vision nodes providing vision in complete darkness up to 10 Meters! You can also use your cam as an alarm Day or Night due to its awesome motion sensing technology. Easily set up notifications so you always know exactly what is going on. You can even schedule it to automatically happen during certain times of the day!

2. View on your iPhone or Android Phones and Tablets
Whether you are on WiFi or cellular service, you can STAY CONNECTED with the X10 Linked Cameras. Not only can you be automatically notified if motion is sensed, you can log in and record the video straight to your phone, so you have record of it!

3. OFFLINE video recording
No internet? DVR (digital video recording) equipment can be expensive. This cam has an SD card at the top, no DVR required! You can record directly to the SD Card. A 128GB (max size) card which can hold roughly a month of video. (initial online setup is required, but may then be disconnected)

4. 2 Way Audio
The LY14 has both a microphone and speaker for 2-Way audio! Speak through your phone and have your voice come from the built in speaker on the camera! Warn kids, inquire if everything is ok, or even talk to a pet through this simple system.

5. Pan and Tilt
The LY14 has our advanced Pan and Tilt! We managed to make the Pan and Tilt feel even better and more responsive! Use the joystick in the app while viewing this camera to move the image side to side and up and down. View everything in the room!

Package contents
1 x X10 Linked 1080p LY14 Pan and Tilt Camera - White
1 x 6.5 ft Power Adapter
1 x Mounting Hardware

If we could make it just one step, we would. This is as close as we can get! Here are the steps: 1) plug it in. 2) Run the app. 3) Follow the simple on-screen prompts.
Really, it's that simple. Both the camera and the app have voice directed setup. You don't even need to fumble around with trying to find the camera on the network or attempt to scan QR codes, we have made it even easier. When prompted, the APP will send out a unique audible tone. The camera picks it up and VOILA, your Linked Cam is ready. We think you will love this setup.